DOROTTYA RÉDAI NAMED TO TIME'S ANNUAL TIME100 LIST OF THE 100 MOST INFLUENTIAL PEOPLE IN THE WORLD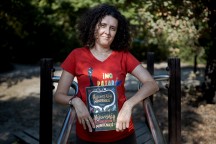 (Budapest, 15.09.2021) TIME has named Dorottya Rédai to the 2021 TIME100, its annual list of the 100 most influential people in the world, because of her leading role in the publication and national and international success of the children's fairy tale collection Fairyland is for Everyone (Meseország mindenkié).

Dorottya Rédai, one of the Board Members of Labrisz Lesbian Association, has been named as one of the most influential people of the world on the 2021 TIME100 annual list. The list, now in its eighteenth year, recognizes the impact, innovation and achievement of the world's most influential individuals. The honour acknowledges her leading role in the publication and national and international success of the children's book Fairyland is for Everyone (Meseország mindenkié), which conveys acceptance and diversity through its tales. The volume remains a gentle but persistent expression of inclusion and LGBT+ presence at the time of strengthening political campaigns against LGBT+ people in Hungary and worldwide. The book has become an international success and will be published in 8 European languages in the following year.

Dorottya Rédai has been a member and now is a Board Member of Labrisz Lesbian Association in Hungary. She is one of the leaders of the 'Getting to Know LGBT People' school program and the coordinator of the 'Fairyland is for Everyone' project. Besides her activist work, her academic activities are also significant: she received the Emma Goldman Snowball Award in 2020 for her feminist scholarly and activist work. Currently she is a Research Fellow of the Democracy Institute of Central European University. Her work focuses on gender equality in education, the reproduction of social inequalities in education, the situation of sexual minorities in education, and the development of teaching methodologies to support gender equality in education.

Labrisz Lesbian Association was founded in 1999 with the aim of raising awareness about discrimination against women's sexual minorities, representing their interests and dissolving prejudices against them. Labrisz aims at strengthening the self-acceptance and visibility of lesbian, bisexual and transgender women, providing a safe environment, and supporting the work of women's and feminist grassroots groups. It works on exploring and enriching Hungarian lesbian and feminist culture and on introducing this culture to the wider public. They organize community and cultural events, collect and publish literature and run a school program. The existence of the latter, after 21 years of its establishment, has now become endangered, due to the legal manifestations of escalating state homophobia, but the volunteers of the program still hope they can continue their work.

The aim of the 'Fairyland is for Everyone' project was to create an alternative fairy tale book with a human rights approach for 6-12 year-old children, which focuses on diversity and social justice. The volume contains 17 fairy tales by seventeen contemporary authors, with diverse characters from various marginalized or disadvantaged groups, often placed in today's environment. The stories are based on well-known fairy and folk tales, and they address a number of 'taboo' or 'sensitive' issues, including same-sex love, gender transition, child adoption, child neglect, partner violence, death of a parent, social exclusion, and transgressing gender stereotypes. The book aims to help parents and teachers talk about such topics with children.

"In Labrisz we thought about 2-3 years ago that it would be great if we could address younger children as well, on the one hand, and deal with social problems not only affecting LGBT+ people but other disadvantaged groups, other social inequalities and exclusions", remembers Dorottya Rédai. "Emotions and experiences related to social exclusion are felt similarly in other discriminated groups, thus it is possible to understand the injustice done to one group through understanding it done to another group. Such topics are raised by children as early as in kindergarten or primary school, but teachers often don't know how to deal with them. Fairy tales can be good intermediaries, because through them it is possible for children to think through these important issues", explains Rédai about the pedagogical approach to the book.

The book, after receiving extremely negative reactions from far-right and governmental politicians, became a great success and more than just a children's book. It has become a symbol for protesting against oppression and discrimination and against governmental policies discriminating LGBT+ people. Since September 2020 the book has been sold in over 30,000 copies. The book has also directed international media attention to the worsening legal and social situation of LGBT+ people in Hungary.

"We are very proud of Dorottya, this is the first such large-scale international recognition since Labrisz was founded over 20 years ago. Human rights don't stop at national borders; we have to pay attention to the valuable work of our fellow activists", said film director Mária Takács, a founding member and Board Member of Labrisz.

Dorottya Rédai emphasized that creating, distributing and managing such a book, and the handling of the huge media attention and the evolving hostile political situation is an enormous effort which requires the strenuous work of many people. "I would like to express my gratitude for the work of the authors, the editor, the illustrator, the technical editor, the members and volunteers of Labrisz. I would also like to thank for the support of book publishing professionals and many teachers and parents. Without them the book wouldn't have come to exist and wouldn't have become so successful. I hope that this recognition will inspire and encourage other activists not to give up the struggle for the equality of LGBT+ people and other minorities, even though it is often hard, exhausting, hopeless or scary." She added that "being included in the list is not only about me, it is also a message to the community that we are visible and strong together, and that we can create remarkable things with joint work".

The full list and related tributes appear in the 27.09/04.10 issue of TIME, available on newsstands on Friday, September 17, and now at time.com/time100.
Follow @TIME for updates about the list on Twitter and Instagram and at Facebook.com/TIME.
#TIME100
------------
Photo credit: Zoltán Adrián/kepszerk.hu
Press contact: sajto@labrisz.hu
Press news, interviews:
https://time.com/collection/100-most-influential-people-2021/6095809/dorottya-redai/
https://444.hu/2021/09/15/a-time-a-meseorszag-mindenkie-cimu-mesekonyvert-a-vilag-100-legbefolyasosabb-embere-koze-sorolta-redai-dorottyat
https://telex.hu/kult/2021/09/15/a-vilag-szaz-legbefolyasosabb-embere-koze-valasztotta-a-time-a-ceu-kutatojat
https://hvg.hu/kultura/20210915_Time100_Redai_Dorottya_Meseorszag_mindenkie
https://magyarnarancs.hu/sorkoz/felkerult-a-time-100-as-listajara-a-meseorszag-mindenkie-alkotoja-241804
https://humenonline.hu/a-time-a-vilag-legbefolyasosabb-emberei-koze-valasztotta-a-meseorszag-mindenkie-egyik-megalmodojat/
https://www.ceu.edu/article/2021-09-16/ceu-academic-dorottya-redai-named-time100
https://rtl.hu/rtlklub/reggeli/meseorszag-mindenkie-redai-dorottya-time-100-legbefolyasosabb-ember
https://www.klubradio.hu/adasok/meseorszag-kiralynoje-a-time-magazinban-121219
https://www.independent.co.uk/news/budapest-central-european-viktor-orban-roma-european-union-b1930756.html
---